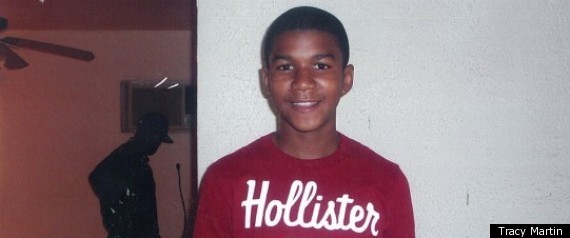 Trayvon, it seems, wasn't so sweet as this picture would suggest. In fact, he seemed to be more like this:
Or this (look closely to see his blurred-out middle fingers):

A closer examination of some of his tweets reveals more disturbing info – for example, that he wasn't really the sweet kid from the picture that the media is circulating.
Why use the Twitter handle @no_limit_nigga? Well, in one Tweet he said he "[just] found my mystikal cd :)", so we can probably assume that's where he came up with his Twitter handle. After all, the phrase "no limit nigga" is used in the Mystikal song Ain't No Limit.
I'm not saying Trayvon was totally innocent, or completely guilty – nor the same about Zimmerman. And in NO way do I think he should have died. But Trayvon clearly wasn't the sweet kid/hate crime victim the media is portraying him as.
---
Some news sources have said that, in reviewing his Twitter account, he seems like an average high school guy. Well, considering that I actually know much more about average high schoolers than some random "journalists," you can rest assured that he was not an average guy. The average guys don't use so much vulgarity or have tattoos or give the impression that Trayvon portrays with his Twitter account:
Vulgar language:
@NO_LIMIT_NIGGA
2 mths ago
RT @x_highlyfavored: – fuck a bitch. any bitch. who you want? take yo pick, but you gone have to take yo time.
Celebrating tardiness:
@NO_LIMIT_NIGGA
2 mths ago
Lol so daisha think she a boss caus she walkd in class late 2day…… i do dat everyday
Demeaning to women:
@NO_LIMIT_NIGGA
2 mths ago
RT @ReesyyLaTootieB: Hahaha Hoe u got USED fa yo loose ass pussy.! Tighten up.! #Literally
Sure, you can say that retweets aren't an endorsement, but.. Come on. Let's be realistic here.
@NO_LIMIT_NIGGA
2 mths ago
RT @fukunurhoexxx: #youthetype of bitch that give up your pussy for free and think its cool #pussyaintfree #fb
More vulgarity:
@NO_LIMIT_NIGGA
2 mths ago
RT @FkThe_Roxys: WORD Of The Day: ROXY! : Green Ass Bitches (&&] Nigguz :/
Stereotypes? Check.
@NO_LIMIT_NIGGA
2 mths ago
RT @GrandadJFreeman: If you use kool-aid as hair dye #youghetto
At least he was creative when playing with words?
@NO_LIMIT_NIGGA
2 mths ago
2 glock 40′s…. bitch u got 80 problems
I have no words:
@NO_LIMIT_NIGGA
2 mths ago
RT @Justme_Lala: #ThickDickThursday #ThickDickThursday #ThickDickThursday #thatisall
It seems he had a tattoo.
@NO_LIMIT_NIGGA
1 mth ago
RT @YoungButTatted: RT only if you #teamtatted
Well, apparently…
Persons under the age of 18 must have written consent from their legal guardian in order to receive a piercing. Persons under the age of 16 must have their legal guardian present to get a piercing. Florida is a regulated tattoo state and any person under the age of 16 cannot legally get a tattoo. Minors permitted under general endorsement of MD, DDS or DC. 877.04.
His Twitpic account suggests that this must be his tattoo (photo was from 82 days ago):
Let's ask his parents about this.
---
Maybe he was just angry about his school lunch the whole time?
Yuck.
What really saddens and confuses me is the following tweet:
@NO_LIMIT_NIGGA
2 mths ago
RT @NumbaSign_Fancy @NO_LIMIT_NIGGA your brother is sooo coool and you're not ! ((: `-_- NOT! UR A LOSER ND SO IS HE
After all, he went out the night of his death to go buy his brother "Skittles and iced tea."
Again, his death was both sad and unexpected. For Pete's sake, he was only 17 – much too young to die. However, that doesn't mean he was innocent. Until we get more facts, let's focus on stopping this tragedy from turning into some divisive race war.
---
Florida law source here.
HUGE thanks to The Daily Caller for providing most of this info, especially the tweets.
Interesting article that covers more of Trayvon's tweets (including weed-smoking) here.